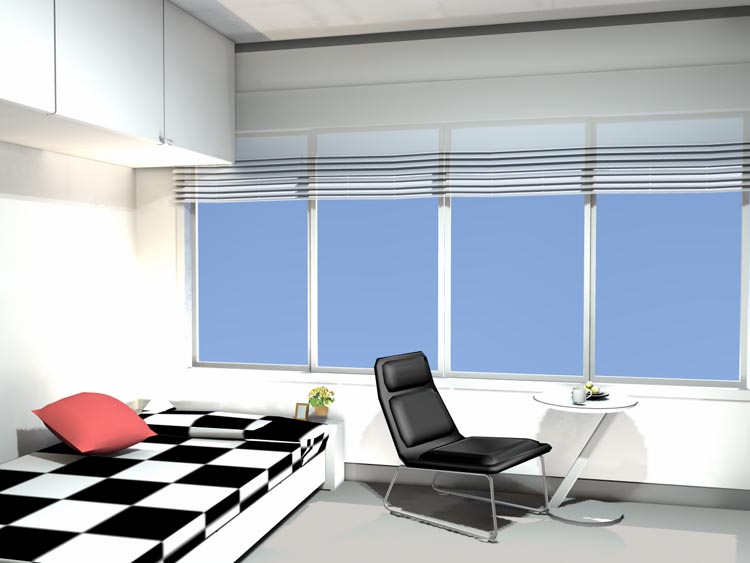 Kami-Itabashi apartments / Sakuragawa apartments
Our Studio style apartment building is made from ferro-concrete.
It is 28 sq. meters with a kitchenette and private bathroom and comes semi-furnished with a bed, air-con/heater,
and kitchen cabinet.There is a clothing closet as well as overhead storage cabinets in the apartment, and a large
wall unit, good for keeping all of your belongings in place.
There is also a washer/dryer with an area to hang your laundry to dry on the top floor of each building.
With the convenience store just nearby, as well as many other stores and businesses you should be able to find
everything you need.
Johoku Central Park and the local gym are only a 5 minute walk away.
You can enjoy jogging, tennis, swimming, weight training, judo, karate, aerobics and more.
And since there are no other tall buildings in the area, your view is wonderful! You can even see Mt. Fuji on a sunny day.
[ Image CG ] A chair, a table, etc. are not attached.
[ Attached structure ]
air-conditioner / big closet / bed /large-sized over head closet (bed upper part) large-sized 5 cabinet / unit bathroom /
parking for bicycles (no charge)
[ Online Reservation ]
You can reserve a apartment on-line.
Please input all required information into our reservation form and send it to us.
We will inform you of the day the parking space can be inspected by E-mail within 48 hours.
Copyright (C) 2019 Toshimaya Apartments Corporation. All Rights Reserved.